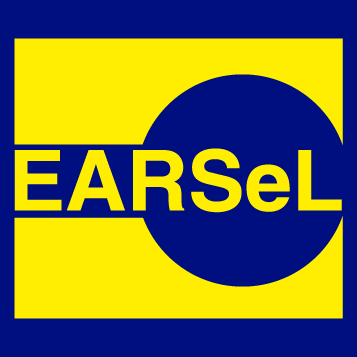 EARSeL eProceedings
EARSeL eProceedings was the peer-reviewed Open Access Remote Sensing Journal published by the European Association of Remote Sensing Laboratories in the years 2001-2018. The journal was devoted to refereed scientific publications in all fields of Earth observation and remote sensing:
• Land use and land cover, geology, forestry, ice and snow
• Atmosphere, ocean and coastal zones
• Urban areas; developing countries
• New methods: hyperspectral, active/passive, 3-D
• Data fusion, time-series analysis
• Climate, environmental risks and hazards

including modelling studies, and ground truth methods and measurements.
EARSeL eProceedings Issues

Volume 1, No. 1, 2001
Volume 2, No. 1, 2003
Volume 3, No. 1, 2004
Volume 3, No. 2, 2004
Volume 3, No. 3, 2004
Volume 4, No. 1, 2005
Volume 4, No. 2, 2005
Volume 5, No. 1, 2006
Volume 5, No. 2, 2006
Volume 6, No. 1, 2007
Volume 6, No. 2, 2007
Volume 7, No. 1, 2008
Volume 7, No. 2, 2008
Volume 8, No. 1, 2009
Volume 8, No. 2, 2009
Volume 9, No. 1, 2010
Volume 9, No. 2, 2010
Volume 10, No. 1, 2011
Volume 10, No. 2, 2011
Volume 11, No. 1, 2012
Volume 11, No. 2, 2012
Volume 12, No. 1, 2013
Volume 12, No. 2, 2013
Volume 13, No. 1, 2014
Volume 13, No. 2, 2014
Volume 13, Special Issue, 2014
Volume 14, No. 1, 2015
Volume 14, Special Issue 1, 2015
Volume 14, Special Issue 2, 2015
Volume 15, No. 1, 2016
Volume 16, No. 1, 2017
Volume 17, No. 1, 2018
Editorial Team

Rainer Reuter
University of Oldenburg
26111 Oldenburg, Germany
e-mail: rainer.reuter@uol.de.org

Co-Editors

Zbigniew Bochenek
Institute of Geodesy and Cartography
Modzelewskiego 27
PL-02-679 Warsaw, Poland


Henning Buddenbaum
Faculty of Geography/Geosciences
University of Trier
D-54286 Trier, Germany


Véronique Carrere
Laboratoire Planetologie et Geodynamique
Université de Nantes
F-44322 Nantes, France


Ioannis Gitas
Aristotle University of Thessaloniki
GR-541 24 Thessaloniki, Greece


Preben Gudmandsen
Technical University of Denmark
DK-2800 Lyngby, Denmark


Elena Krasnova
M. V. Lomonosov Moscow State University
Faculty of Biology
Moscow 119991, Russia

Ioannis Manakos
Centre for Research and Technology Hellas (CERTH)
Information Technologies Institute
GR-57001 Thessaloniki, Greece

Kostas Nikolakopulos
University of Patras
Department of Geology
GR-26504 Rio Patras, Greece


Svetlana Patsaeva
M. V. Lomonosov Moscow State University
Faculty of Physics
Moscow 119991, Russia

Jacques Populus
DYNECO/Applications Géomatiques
IFREMER
F-29280 Plouzané, France


Robin Vaughan
University of Dundee
Centre for Remote Sensing and Environmental Monitoring
Dundee DD1 4HN, UK


Bogdan Zagajewski
Warsaw University
Faculty of Geography and Regional Studies
00-927 Warszawa, Poland

Copyright
Use of this site and its contents are subject to our Copyright Agreement. It implies that you have read and agree to abide by these terms.

Users may make all use of the materials on this site for purposes of research, education or other non-commercial use as follows:
Display: The right to electronically display the materials.
Digitally copy: The right to download and digitally copy the materials.
Print copy: Print a reasonable portion of the materials.
Archival/Backup copy: Create one (1) copy of the entire set of the materials to be maintained as a backup or archival copy.
Caching: May make such local digital copies of the materials as are necessary to ensure efficient use by appropriate browser or other software.
Restrictions:
Modifications: Users shall not modify or create a derivative work of the materials without the prior written permission of EARSeL and BIS.
Removal of Copyright Notice: Users may not remove, obscure or modify any copyright or other notices included in the materials, and users agree to abide by copyright law as it applies to such copyrighted material.
Commercial Purposes: Users may not use the materials for commercial purposes, including but not limited to the sale of the materials or bulk reproduction or distribution of the materials in any form.